LUG Light Factory is the laureate of the Socially Responsible Business 2017 contest!
On December 3 2017, LUG Light Factory was awarded with the "Shared Value" statuette for its corporate social responsibility activity (CSR) for the benefit of the local community, for its openness to cooperation with social economy and an open heart for various social needs.
LUG is a company that has been on the market since 1989, shaping innovative lighting solutions around the world. As a socially and business responsible company, LUG also remembers a local environment, to which the Company directs a wide spectrum of diversified activities; beginning with children from orphanages, elderly and sick people, through those in a difficult life situation, or in need of an immediate support. Each activity represents the highest standards and is harmonized with the environment. The company, which has been appreciated many times in the past, has once again been noticed receiving the honorable distinction on December 3 2017. The award confirms appreciation for LUG as "Socially Sensitive Business" in 2017. The competition has been organized by the Social Economy Support Center in Zielona Góra. The goal of the competition is to promote socially responsible businesses in the area, committed to ​​social causes and furthering development of the local community. The competition is focusing on Lubuskie enterprises that implement good practices in ​​social involvement, support the local community and contribute to building relationships with it. In addition, the competition aims to highlight good practices in business cooperating with social economy entities, for which the winners were awarded the "Common Value" statuette.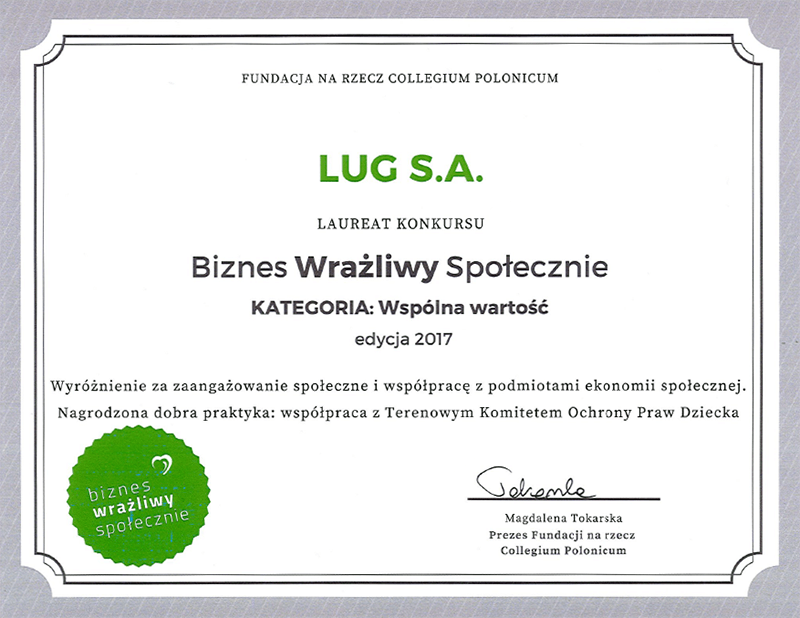 The competition consisted of two stages. In the first stage, the companies described their good practices implemented under CSR, using the appropriate application form. Those who managed to find themselves in the second stage, held a conversation with the evaluation committee, describing their activities in detail and thereby bringing the company's profile closer to CSR. The festive Gala, during which the laureates were awarded, was held at the Ethnographic Museum in Ochla. In addition to LUG Light Factory and Teatr Lubuski, which also received the "Common Value" statuettes, meaning "being open to cooperation with social economy entities and having an open heart for their needs". The winners include: SWISS KRONO Polska, MB-Pneumatyka Sp . z o.o., BHP and Fire Protection Center. Sela and PGNiG S.A. - Branch in Zielona Góra.
Each award, especially in the field of charity and CSR, is the evidence that LUG's activity is not only a response to the needs of the local community for support, an expression of its continuous willingness ability to help others, but also a good educational example for other socially responsible businesses.
Learn more about good practices of the Lubusz business here : http://csrprofit.com/