LUG at light+building 2018
In Frankfurt am Main, one of the largest and most important lighting industry fairs, Light + Building 2018, is now being held. At their stand, LUG presents a wide range of innovative solutions designed to meet a wide variety of their business partners' needs.
Held every two years, the Light + Building fair attracts over 200,000 professionals to Frankfurt, looking for the latest, most innovative solutions for the lighting and construction industry. LUG Light Factory, one of the leading European manufacturers of professional lighting solutions, simply could not miss this event. During this year's fair, LUG's stand reflects the strategic directions of the company's development. On the stand's four unique zones, solutions dedicated to strategic LUG's target groups (architects, interior designers and city authorities) are presented.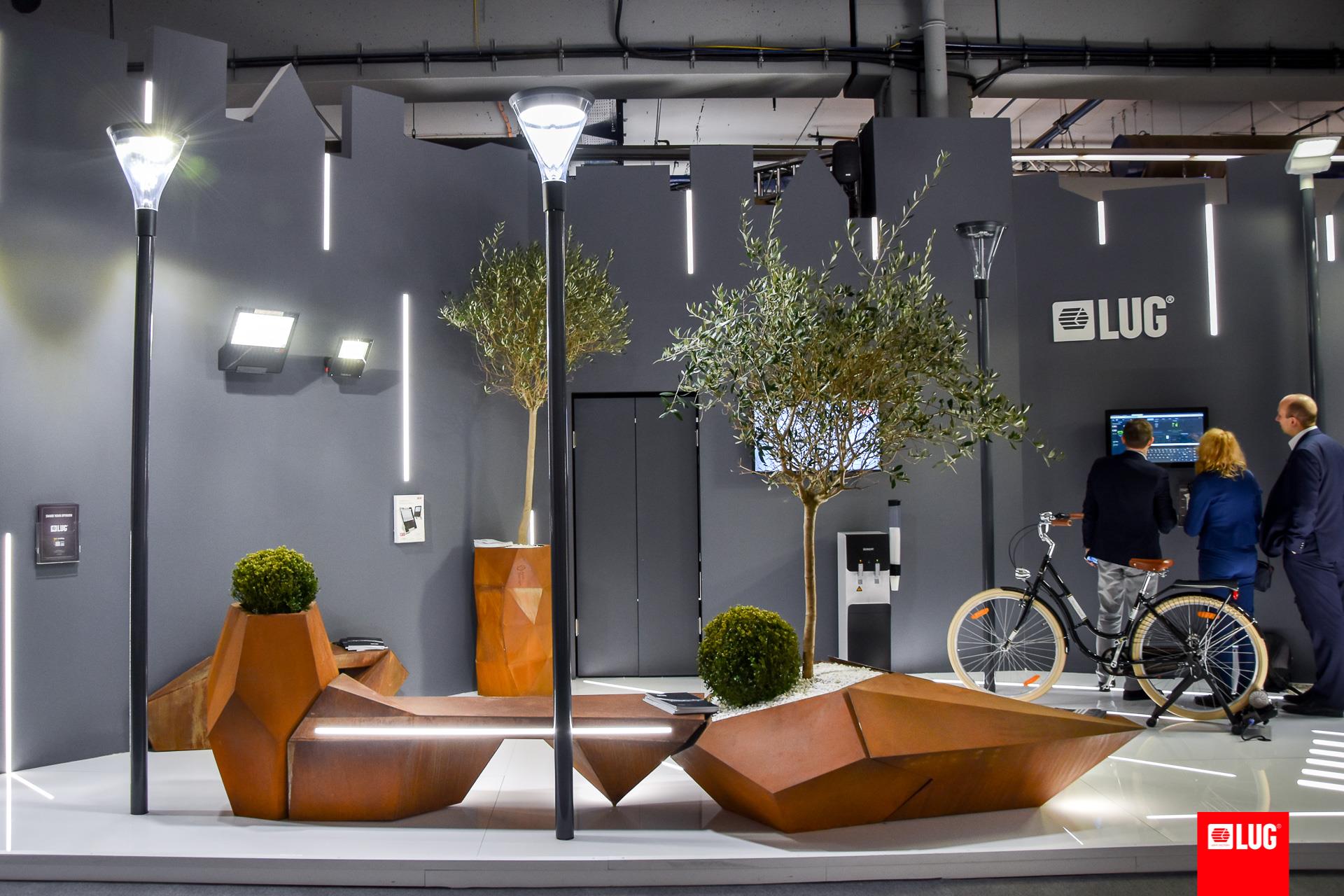 The Urban Zone is a representation of active urban space, in which guests visiting the stand may get acquainted with solutions dedicated to street, park or city square lighting. Those solutions are not limited to luminaires only, but they also comprise an intelligent lighting management system developed jointly with Cisco, the use of which is the best way to implement Smart City solutions in the city. The stationary bike in this zone enjoys great interest, as when riding on it one can power one of the Avenida park lighting luminaires, thus becoming aware of how little electricity is needed to power modern, energy-efficient LED lighting fixtures. In addition, presentations on the role of light in public space and its potential for improving the quality and comfort of living of urban residents take place on LUG's stand every day.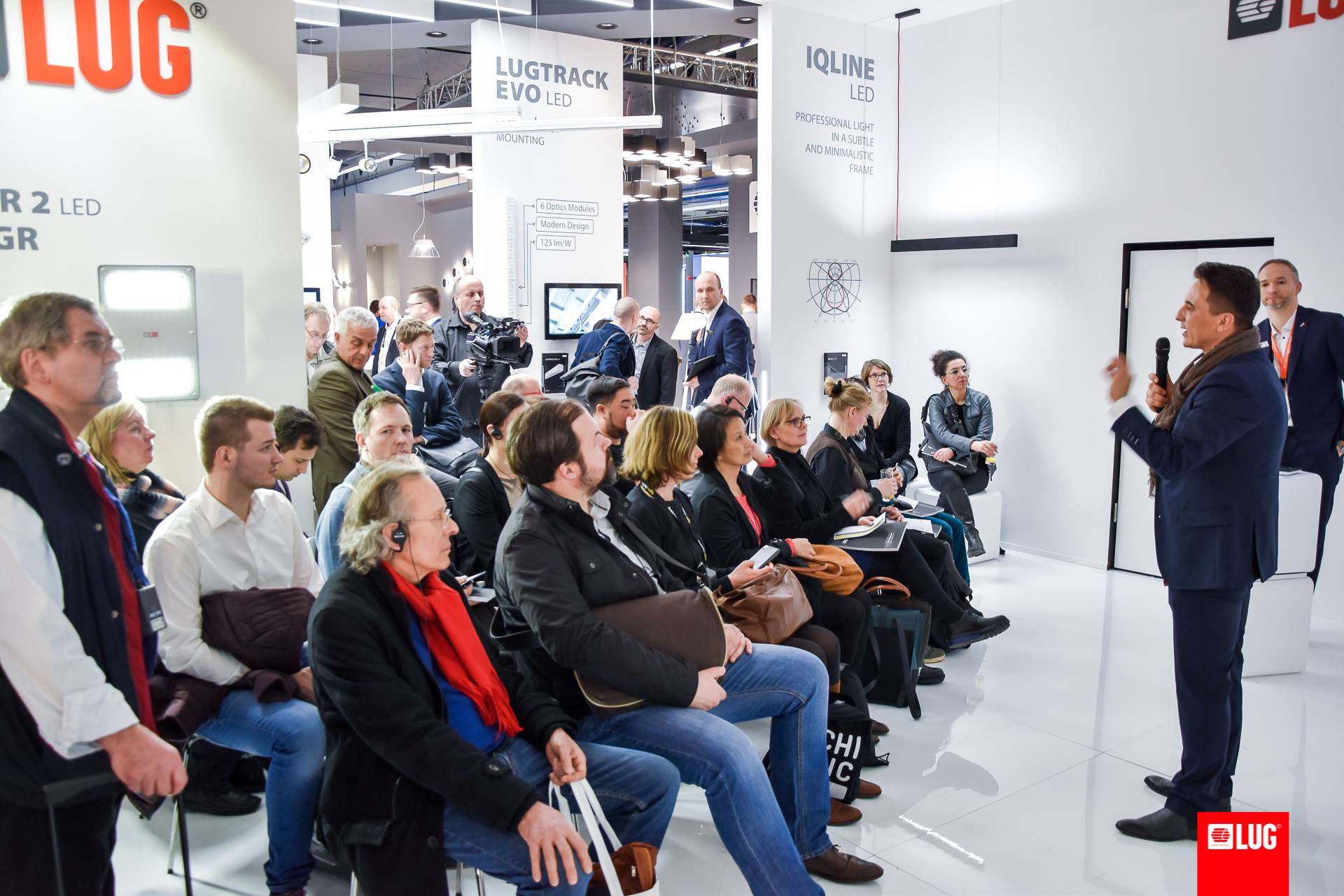 The Architecture Zone is a place where guests are presented with a range of solutions for lighting places such as industrial, office and retail space. They include professional, technologically advanced lighting solutions that offer very high flexibility and a possibility to adjust their parameters to the specific needs of particular projects. A perfect example of such a solution is the Atlantyk 2.0 luminaire, available in three variants dedicated to different areas. Moreover, workshops for architects on the potential of BIM tools in design and the role of lighting in architectural space are also held in the zone each day.
The Interior Zone is an impressively decorated space, representing an exclusive, relaxing interior. In this part of the stand, goods such as the Dagali collection are presented, which, in addition to their basic lighting function, create and shape the interior in which they are located. The highest quality workmanship, sophisticated materials and well-thought-out design create a unique atmosphere, thanks to which the guests in this zone can relax and feel what the impact of lighting on our well-being may be.
In addition to new products such as Avenida, Dagali, IQ Line, iNTO, Lugrack EVO or Atlantyk 2.0, visitors to LUG's individual zones have the opportunity to learn about comprehensive support programmes and tools that support the implementation of even the most complex projects.
The Hologram Zone is also a very popular part of the stand, where one can find an interactive hologram displaying, among other things, three-dimensional luminaire models, photos of projects implemented by LUG or presentations of support programmes for the company's target groups. Thanks to the possibility of interacting with the image, the hologram attracts attention and offers visitors to the LUG stand great emotions. In this zone, there is also a three-dimensional model of a city located, against which an animation presenting the possibilities offered to cities by the Smart City class solutions is displayed.
The Light + Building fair is a very important event for us, in which we have been participating on a regular basis since 2002. Every year, our stand presents a number of innovative solutions; both products and support tools for our partners. This year, our stand additionally corresponds to the strategic development directions of LUG S.A. Group, thanks to which we are able to present them to a very wide range of guests who visit us
– states LUG Light Factory's President of the Management Board, Ryszard Wtorkowski.