Investor's chat with the President of LUG S.A.
We are very pleased to invite you for the investor's chat with the President of LUG, Ryszard Wtorkowski, who will deal with the financial situation of the Company, the summary of 2018, the effects of the plant's operation in Argentina, the prospects of the lighting market in 2019 and the implementation of the strategic directions of the LUG development.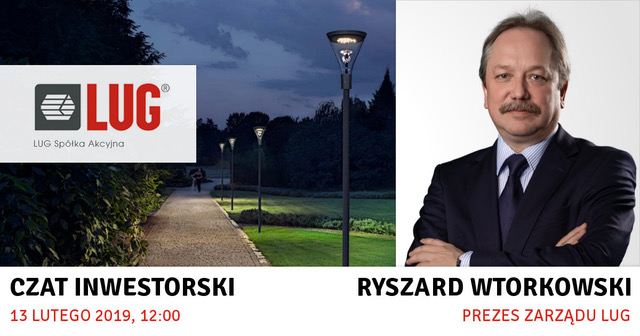 The meeting will take place on Wednesday, February 13, 2019 at 12.00.
The Capital Group of LUG S.A., a leading manufacturer of system solutions in the field of professional lighting technology, selling its products around the world - reported the estimated financial results for the fourth quarter of 2018. In the last quarter of 2018, the company generated PLN 50.17 million of consolidated sales revenues (+27.7% y/y). In increasing terms, sales revenues reached the level of PLN 169.76 million, with dynamics +19.3% y/y.
On February 12, 2019, the Company will publish results for the fouth quarter of 2018.
IF YOU WISH, ASK A QUESTION IN ADVANCE IN HERE!