iF DESIGN AWARD 2016 for POWERLUG LED!
POWERLUG LED AWARDED WITH THE IF DESIGN AWARD 2016!
It is our great pleasure to inform you that POWERLUG LED was awarded with the iF DESIGN AWARD 2016 in the lighting product category!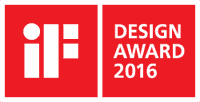 For over 60 years the iF Design Award logo has been an internationally recognized symbol of the finest achievements in the field of design. During this year's edition of the competition, a jury of 58 specialists assessed over 5000 entries from 53 countries. Receiving this prestigious award for POWERLUG LED is a proof that LUG Light Factory manufactures luminaires that can meet the expectations of the most demanding recipients.

POWERLUG LED is an outdoor LED floodlight luminaire designed to illuminate a variety of architectural objects as well as open and closed spaces such as sports facilities and car parks. The luminaire's ergonomic construction allows for its easy mounting on a horizontal or vertical surface as well as on a lamp-post. Thanks to a simple mounting procedure and low weight of the luminaire it can be conveniently and safely mounted by one person. The luminaire features self-cleaning surface which helps to maintain the nominal lighting parameters throughout the luminaire's lifetime. POWERLUG LED is also compatible with control systems which can be operated with a smartphone and LLOC – a lighting control system allowing for adjusting the lighting parameters to the users' needs.
LUG Light Factory is a leading European manufacturer of lighting luminaries with 25 years of experience. The company operates in the professional lighting sector, specializing in the production of professional lighting solutions for infrastructure, indoor and outdoor illumination of public utility buildings as well as industrial and architectural objects.